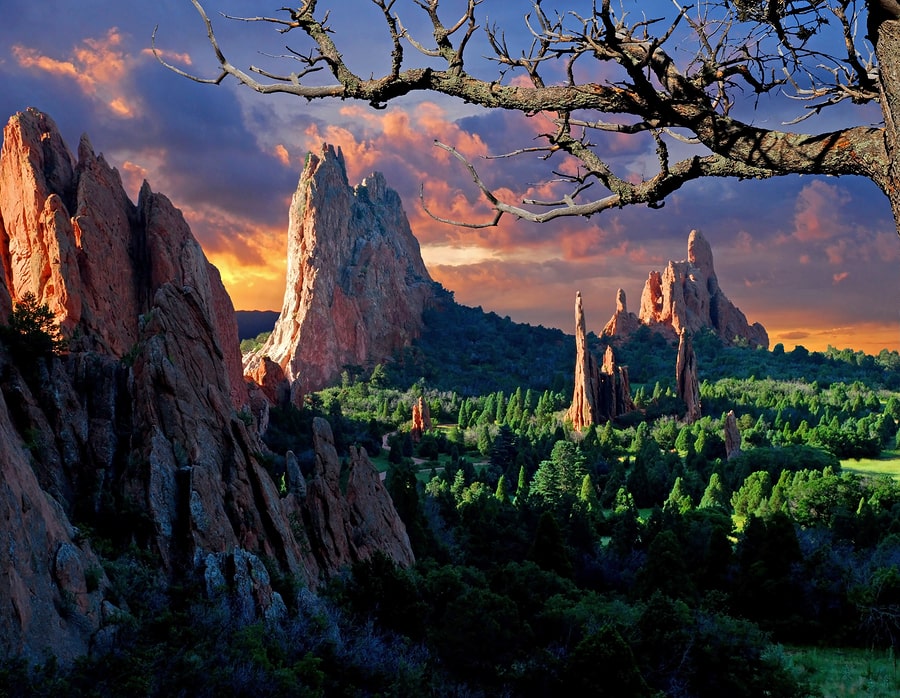 If you're searching for a perfect destination for those who love culture or nature, it doesn't get much better than Colorado Springs. And it's even better if you love both!
There's no shortage of beauty to admire, history to absorb, and good food to eat, both in restaurants and in via alternative options like food trucks.
As the second-largest city in the state of Colorado, Colorado Springs has plenty to offer. It is, however, quite spread out, so you'll want to explore by car. If you're traveling by air, be sure to rent a car as soon as you arrive.
Surrounded by magnificent views of the Front Range of the Rocky Mountains, this is a worthy destination for your next family or solo trip. Read on to learn more about the wondrous things this city has to offer via our very own top-10 things you can't miss!
1. Enjoy the Beautiful View from the Summit of Pikes Peak
While it's not the highest peak in Colorado Springs, the stunning view from Pikes Peak makes it a favorite for locals and visitors alike. You can reach it via Pikes Peak Highway, the Cog Railway, or — if you want to walk — via the Barr Trail. Be sure to take advantage of the natural beauty and get that that Insta shot to brag a little on your social-media channels.
2. Walk Through the Garden of Gods
This breathtaking park delivers a stunning mix of snowy views and more than 300 sandstone formations. The stunning contrast of colors makes another perfect backdrop for your trip photos. Garden of the Gods is a natural wonder and a must-see!
3. Eat Something Delicious from One of the City's Food Trucks
There's no shortage of good food options here, but for a more casual option, you must visit some of the famous Colorado Springs food trucks. They're anything but conventional. You'll find a range of delicious options that go from tacos to barbecue, and even gourmet ice cream. The selection is truly something extraordinary that you won't find anywhere else.
4. Check Out the Art Galleries at Manitou Springs
This National Historic District is full of authentic hippie charm and old-school cafes that will take you back in time. It's the perfect place to spend hours wandering on foot with no particular destination.
5. Visit the Manitou Springs Penny Arcade
This arcade will take you on a perfect trip down memory lane, where you can enjoy more than 400 old gaming machines. It's not only fun but also very inexpensive because the machines still operate on pennies, just as they did back in the day.
6. Check Out the Wildlife at North Cheyenne Canon Park
The magical outdoors come alive in North Cheyenne Canon Park. It's perfect for spotting mountain lions, black bears, and deer – and a must-see for animal and nature lovers.
7. Go to the Cheyenne Mountain Zoo
This phenomenal zoo is another great stop for animal lovers, especially if you're traveling with younger kids and want to see some local critters up close.
8. Get Inspired at the Colorado Springs Fine Arts Center
This cultural center boasts an incredible sculpture garden. It also hosts a fantastic collection of Latin American Art, including folk art and Mexican clay works.
9. Go for a Hike at Red Rock Canyon Park
Spanning about 787 acres, Red Rock Canyon Park is the perfect place to enjoy nature in a hike or do some cycling and climbing. It's also a photographer's dream, so enjoy the view and take pictures of the vast, striking red cliffs that are the park's mainstay.
10. Explore Old Colorado City
Founded in 1859, Old Colorado City was the original capital of Colorado. It will transport you directly to the 19th Century's Wild West, where you can shop for curios at the many locally-owned shops.