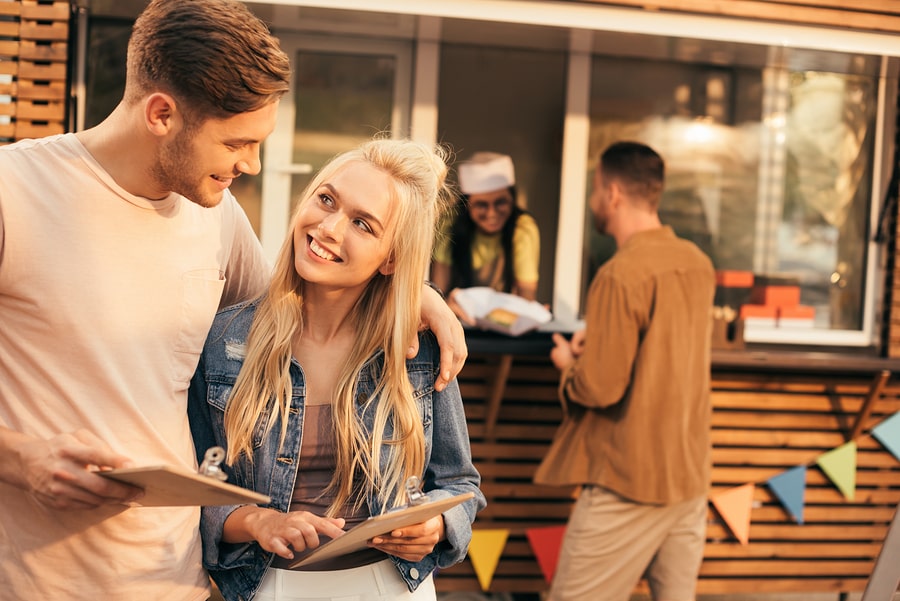 If you're launching your first food truck, one thing is sure to be uppermost in your thoughts… Yes, the menu.
We see so many different concepts for food trucks on Truckster that we're not here today to give you recipes or fixed specifics. After all, what would work wonderfully on a taco truck wouldn't be quite so well received on a truck specializing in crepes.
Instead, we've got five core menu principles that will keep all your customers happy while potentially bringing in some new customers into the bargain. And if you are interested you can check out these additional marketing tips for food truck owners!
Menu Ideas That Work
Make sure you consider including:
1. A Tried and True Classic
2. Something Seasonal
3. Kid-Friendly Meals
4. A Vegetarian and Vegan Choice
5. Low-Fat Options
1) A Tried and True Classic With a Twist
Regardless of the theme of your food truck, there's always room for a classic dish.
Whether that's a delicious burger with perfectly done fries or some chicken dippers, grilled cheese, or an open sandwich, don't be afraid to go off-concept and drop in a traditional food truck dish.
Don't be afraid, either, to personalize this in line with your core offerings. If you're selling Mexican food, embellish the dishes with dips or sauces to suit. Throw some jalapeños on the side. Get creative and put your spin on something familiar.
2) Something Seasonal
Seasonal produce says one thing to customers: fresh.
Even if you've got regular customers who usually order the same food every time, don't get stuck in a rut with your menu. This advice doesn't mean you need to go crazy and change the entire menu, but you should add to the regular roster with seasonal items to keep your customers coming back for more.
Whether you opt for some refreshing salads and smoothies during the summer or some thick, rich soups for the colder winter months, let your local specialties guide you. Don't be afraid to mix things up on the menu front. Imagination is your only limitation.
3) Kid-Friendly Meals
Making your food truck kid-friendly is a surefire way to attract more families. And by this, we don't mean just offering slightly smaller portions at a nominal discount.
Again, if you've got a niche concept that most kids wouldn't be too keen on, don't hesitate to step outside your normal boundaries and serve up exactly what children love.
From fries and burgers to decadent desserts, carry out some market research and find out what you can do to boost your bottom line by catering to all age groups.
4) A Vegetarian and Vegan Choice
You should provide for both vegetarians and vegans, even if the bulk of your menu is meat-heavy.
We'd advise creating at least three vegetarian dishes and a couple tailored to keep vegans happy. Let's face it, a single limp offering might be better than nothing, but not all vegetarians will appreciate having no meaningful choice. Do more than the bare minimum.
If you're asking yourself why someone who doesn't eat meat would head to your food truck in the first place, kick that attitude aside. Instead, embrace the opportunity to bring your culinary skills to the forefront and potentially win over a new demographic.
5) Low-Fat Options
With people increasingly conscious of what they're eating and how it impacts their health, it's well worth making room for some low-fat and healthful options on your menu.
You don't need to turn your burger van into a salad fest here, but there's nothing wrong with adding some lean chicken burgers and some low-carb, high-protein fare for the more health-conscious customers.
So, with those small tweaks to your menu potentially adding to your bottom line, how could you swell profits even further?
Why not consider listing your food truck on Truckster? With kids, vegetarians, vegans, and dieters all taken care of, using a platform like Truckster can bring even more customers heading your way.