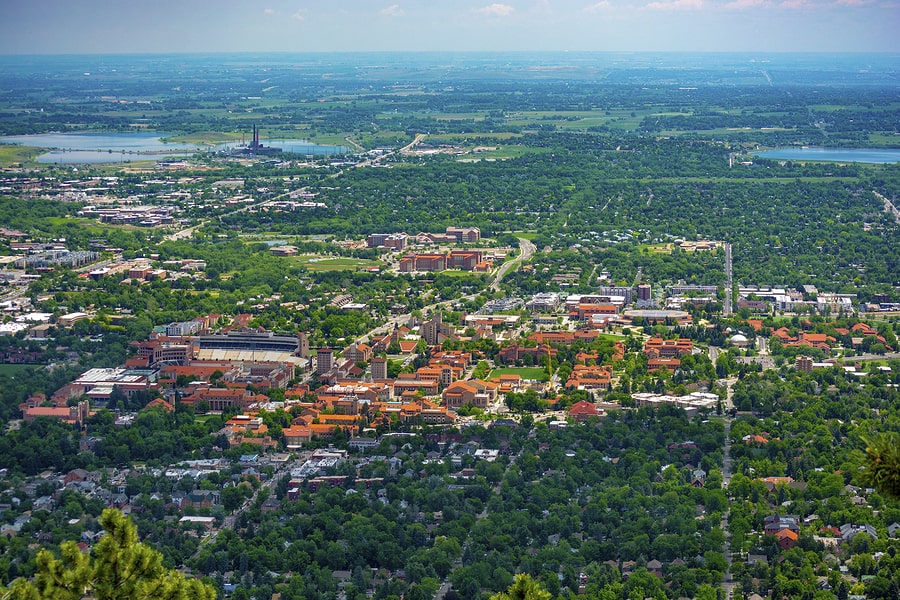 There's no shortage of beautiful places to explore and entertaining things to do in Boulder, Colorado. With 200 miles of hiking trails and more than 31,000 acres of parkland, this town is a true nature- and adventure-lovers' paradise. While the potential adventures in the many breathtaking mountain parks are the main attraction for most visitors, you'll also find hordes of food and cultural options if you're interested in a more tranquil stay.
Here are some of the experiences you won't want to miss next time you visit Boulder:
1. The Flatirons
Without a doubt, the stunning, slanted, sandstone Flatiron foothills are the main attraction in town, and many locals considering them a synonym for Boulder. If you're the adventurous type, you can climb in this area, but if you prefer a less-risky way to enjoy the views, you can enjoy a hike on one of the many trails. You'll find perfect options for hikers of all ages and fitness levels.
2. Local Breweries
Home to 20 breweries, Boulder boasts a bike-friendly Beer Trail – a tour to let you experience all the local distilleries and wineries. If you want a more relaxed experience and want to try out the local food scene, too, you should stop by BRU, which pairs 14 rotating taps with fantastic food options that will complement the brews.
And don't leave town without tasting the famous India pale ale at Avery Brewing Co.
3. Local Food Trucks
Boulder boasts a thriving food scene, which is probably most evident in the fabulous quality and variety of food trucks you'll find around the city.
Some of our favorites include:
The French Twist for a varied and sophisticated menu you won't believe comes out of a truck. It's run like a restaurant!
Little Grater for amazing crepes, including savory and sweet options.
Tacos El Rey for the best tacos in town.
La Rue Bayou for life-changing creole food!
The Ginger Pig for some mouthwatering Asian flavors.
4. Pearl Street Mall
This commercial area in downtown Boulder offers more than your run-of-the-mill shops. In addition to some of the big chain shops, you'll find some seriously cute local boutiques and original galleries. Even if you're not interested in shopping, Pearl Street has some lovely cafes to hang out in to take in the eclectic characters, and there are almost always street performers entertaining up and down the mall.
It's a sweet spot to grab a bite, stroll a bit, and do some people-watching to get a feel for the local environs.
5. Celestial Seasonings Tea Factory
If you enjoy a good cuppa of herbal tea, this is a must-stop on your itinerary. This factory houses North America's largest herbal tea producer, and it's well worth the visit to learn more about the process that translates to you sipping your chai in the afternoon.
During the tour, you'll be invited to taste some of the brand's bestseller flavors, so you might even walk out with a new favorite blend!